What Is CEREC?
CEREC has revolutionized the way our practice can deliver treatment to patients like you. This high-tech equipment allows us to restore damaged teeth in a single visit. The result is a beautiful, natural-colored restoration that is much stronger than before.
CEREC is a revolutionary way to restore damaged teeth in a single visit. Making your teeth beautiful, and stronger than before.
With CEREC we can quickly and economically restore damaged teeth using a durable ceramic material that matches the natural color of other teeth in your mouth. CEREC is an acronym for Chairside Economial Restoration of Esthetic Ceramics.
What advantages does CEREC offer me?
First and foremost, the restoration can be performed in a single session, usually in about one hour. With CEREC there's no need for us to make an impression and send it to a lab. We won't inconvenience you by asking you to return for a second visit.
Secondly, the restoration is natural looking, because it is made of tooth-colored ceramic material. It's metal-free–no silver fillings to discolor your smile! The ceramic material is compatible with tissue in your mouth and is high-grade, anti-abrasive and plaque-resistant. It allows us to be extremely precise and save more of the healthy part of your tooth.
How does CEREC work?
First, we prepare the damaged tooth by applying a thin layer of reflective powder directly on the tooth's surface. Using a special camera, we then take a picture of the tooth. We work from this photo, which is actually a High Definition optical impression of the tooth. Computer Aided Design technology helps us design the restoration from the optical impression. You can actually watch us design your new restoration on a full-color computer monitor right before your eyes!
Then CEREC creates an extremely precise restoration. A high-speed diamond bur and a disk work simultaneously to mill the restoration out of a solid block of ceramic material. Finally, we bond the newly milled restoration to the tooth using state-of-the-art adhesive dentistry.
Over a decade of clinical research and experience supports the CEREC technology. User input and research have helped the manufacturer improve the product during this time. Dentists have performed over four million restorations worldwide.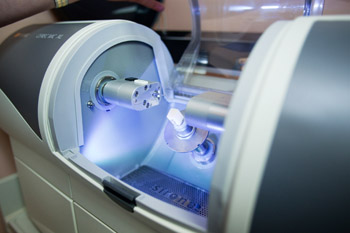 CBCT Cone Beam
In our office we utilize the Galileos Comfort Plus. This is an advanced 3D imaging device with a low radiation dose. The scanning process is completed in 14 seconds. The information obtained allows our doctors to view normal and abnormal dental anatomy to aid in implant treatment planning, 3rd molar positions complex root structures and sinuses.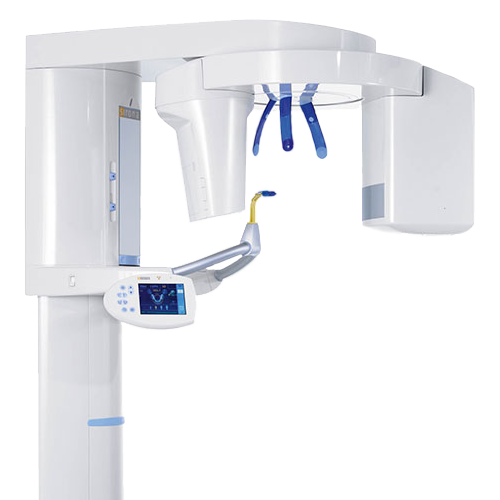 What is CBCT?
CBCT is the abbreviation for cone beam computed tomography, also known as cone beam. CBCT provides your dentist with clear images of your jaws and teeth in three dimensions (3D).
Why do I need a cone beam scan?
Our dentist may recommend a CBCT procedure for planning a root canal, orthodontic treatment, placement of dental implants, wisdom teeth removal, and other situations when obtaining a more detailed, precise view of your dental anatomy is required.
What type of image does the CBCT produce?
Cone beam imaging creates a 3D view of your face and teeth. Our dentist can view the images immediately on an attached computer screen to aid in diagnosing your condition(s) and planning your treatment. 3D scans often help patients better understand their dental conditions and treatment options as they are easier to spot on a CBCT image. Don't hesitate to ask us to explain the 3D image if you have any questions.
Why can't my dentist just use traditional imaging?
While every patient has unique needs and every dentist has his or her own preferences, keep in mind that 2D images are flat. A CBCT machine with 3D capability gives more anatomically correct information, which in turn enables our dentist to plan the most efficient treatment for you.
What should I expect when my dentist uses CBCT?
You will usually stand for our dental assistants to take the images. To keep your head steady and the images clear, the assistant will ask you to place your chin onto a chin rest. As you stand as still as possible, the cone beam will move around your head, but it will not touch you. The assistant will request you to remain in the same position while checking the images to ensure that they captured the necessary details.
Should I do anything special to prepare for my CBCT?
If you have any piercings or normally wear jewelry anywhere on your head or face, our dentist will most likely ask you to remove them prior to the scan. This will help to save time when you report for your appointment. You may be asked to remove dentures, retainers, or other removable dental appliances, as well.
Should I feel concerned about radiation exposure during this exam?
Your dentist will approve you to receive the CBCT after considering all other options and deeming it the most appropriate one. While you receive slightly more radiation exposure with CBCT than a typical dental X-ray, the amount is insignificant compared to a medical CT scan.
Where can I learn more about cone beam technology?
Don't hesitate to discuss any concerns about dental imaging with your dentist. He or she will provide you with detailed information about your diagnosis as well as the proposed plan of treatment. This will include the reasons your dentist chose CBCT and why it is the best choice in the diagnosis and treatment of your specific condition.